Hello All,
Below is a new video covering the RS-232 control capabilities of Noventri Suite. This feature was added in Noventri Suite version 2.2.
RS-232 abilities are limited only by your display / device, but here are some common examples:
Lowering the back light settings on your display during evening hours to save electricity and screen life
Raising the back light settings on your display during morning hours to increase visibility with nearby sunshine / glare
Changing the source on displays during off-hours to prevent screen burn-in
Powering displays off at the end of the day so that employees don't have to do so manually (and to save electricity)
Adjusting the volume levels on the display so that other timed environmental sounds can be heard more clearly
Make sure that your RS-232 device is powered on and plugged into to the RS-232 port on the Eco-Series SF-100e player, as shown below, and enjoy the video!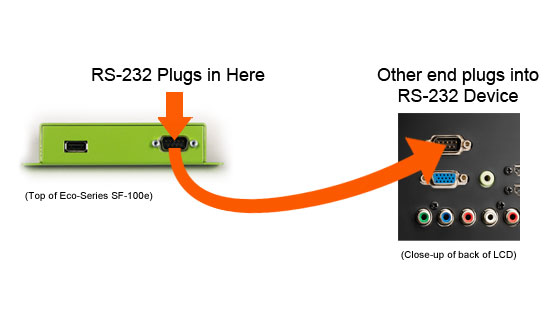 To view video from a mobile device, click here.
You can also download NEC and LG command lists below: