Configuration Panel
3.1 - Overview
3.1.1
The Configuration panel lets you manage Player Groups, Permissions, and Emergency Setup for the Noventri Server™ software that you are logged into.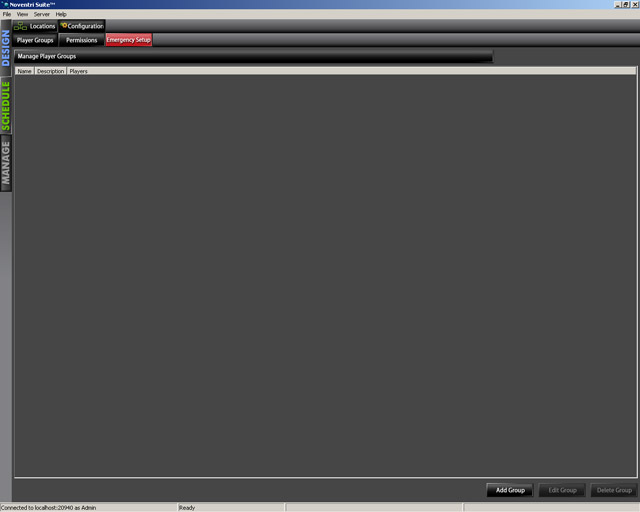 3.2 - Player Groups
3.2.1
The Player Groups tab allows you to add, edit, or delete groups. Players can be assigned to a group or multiple groups. This lets you publish a project to multiple players much easier.
3.2.2
The Add Group button allows you to create a group name, description, and assign any number of SF-100e players to be used.
Note: A group may contain as many players as you like. The same players can also belong to other groups as well.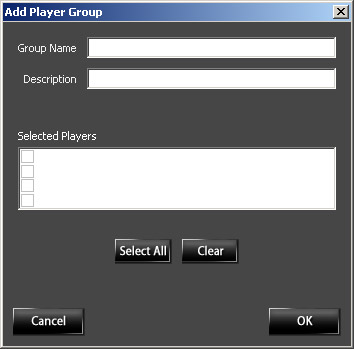 • Group Name — Assign a name for the group you are adding.
• Description — Choose a description for the group you are adding.
• Selected Players — Check the checkboxes next to each SF-100e player you would like to add to this group.
• Select All — Will select every available player in the Selected Player list.
• Clear — Will deselect every checked player in the Selected Player list.
3.2.3
Once you have added the desired players to the group, select OK to save
everything, or Cancel to abort.
3.2.4
Use the Edit Group button to make changes to the description, add players, or remove players. The group name cannot be changed once it is created.
3.2.5
Player groups can be removed by using the Delete Group button. After confirming your choice to delete, the group will be removed.
3.3 - Permissions
3.3.1
This section will be added to the manual soon.
3.4 - Emergency Setup
3.4.1
The Emergency Setup tab is a preview of a feature coming soon that will offer the ability to quickly trigger emergency events as they arise.
That's it! You have completed the manuals for all three tabs of Noventri Suite.
If you have any questions, feel free to make a new topic on the
Help & Support Forum
.
Go back to the previous section